promoted and supported by
SCHOOL DIRECTORS
Leonida A. GIZZI(CNR, INO), Ralph ASSMANN (DESY)
School Organizers
Petra KOESTER (CNR, INO),
Francesca USALA (CNR, INO)
Tom MINNIBERGER(DESY),
Ruth MUNDT (DESY)
Scientific Secretariat
Petra KOESTER (CNR, INO) (tbc)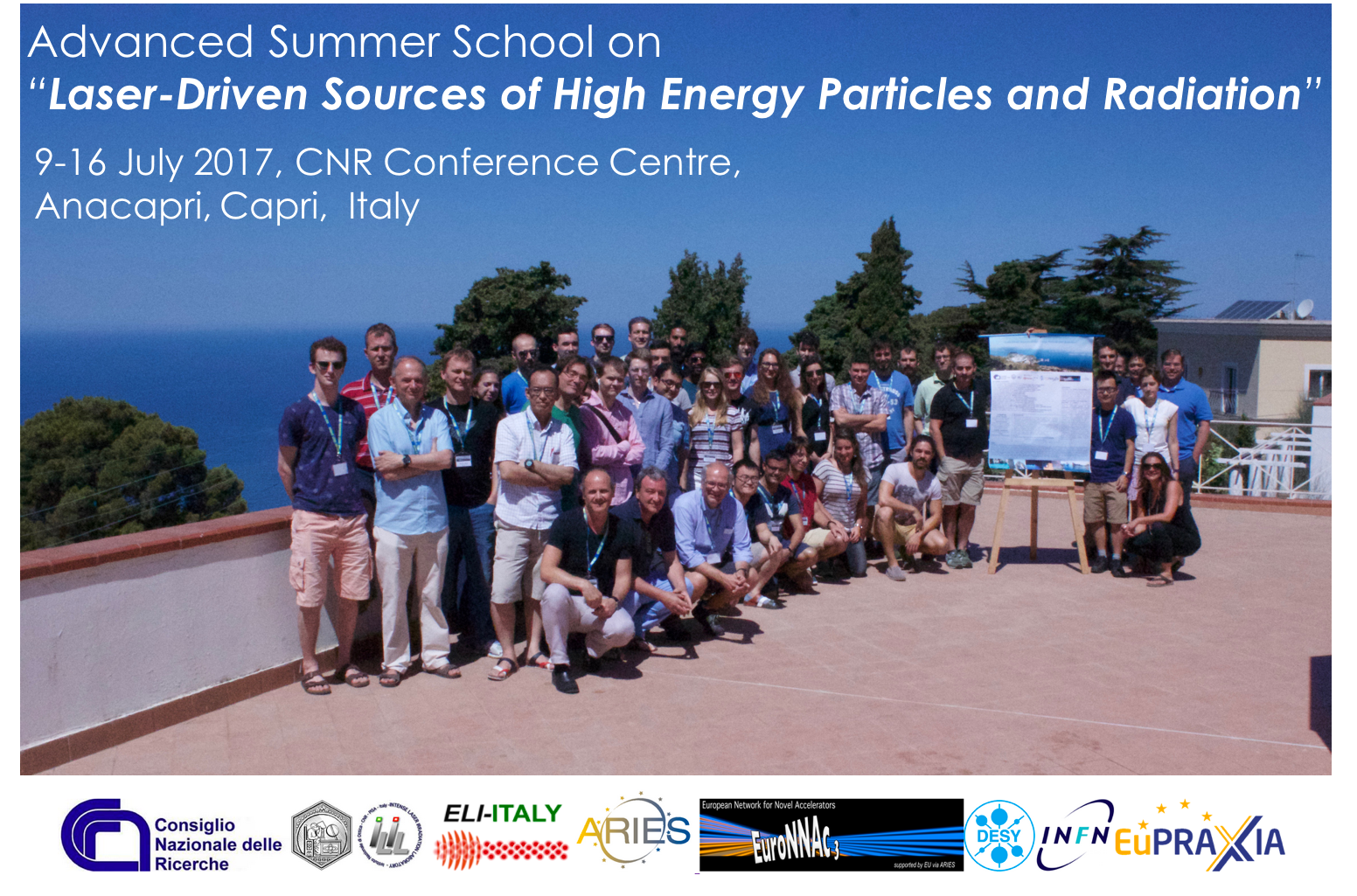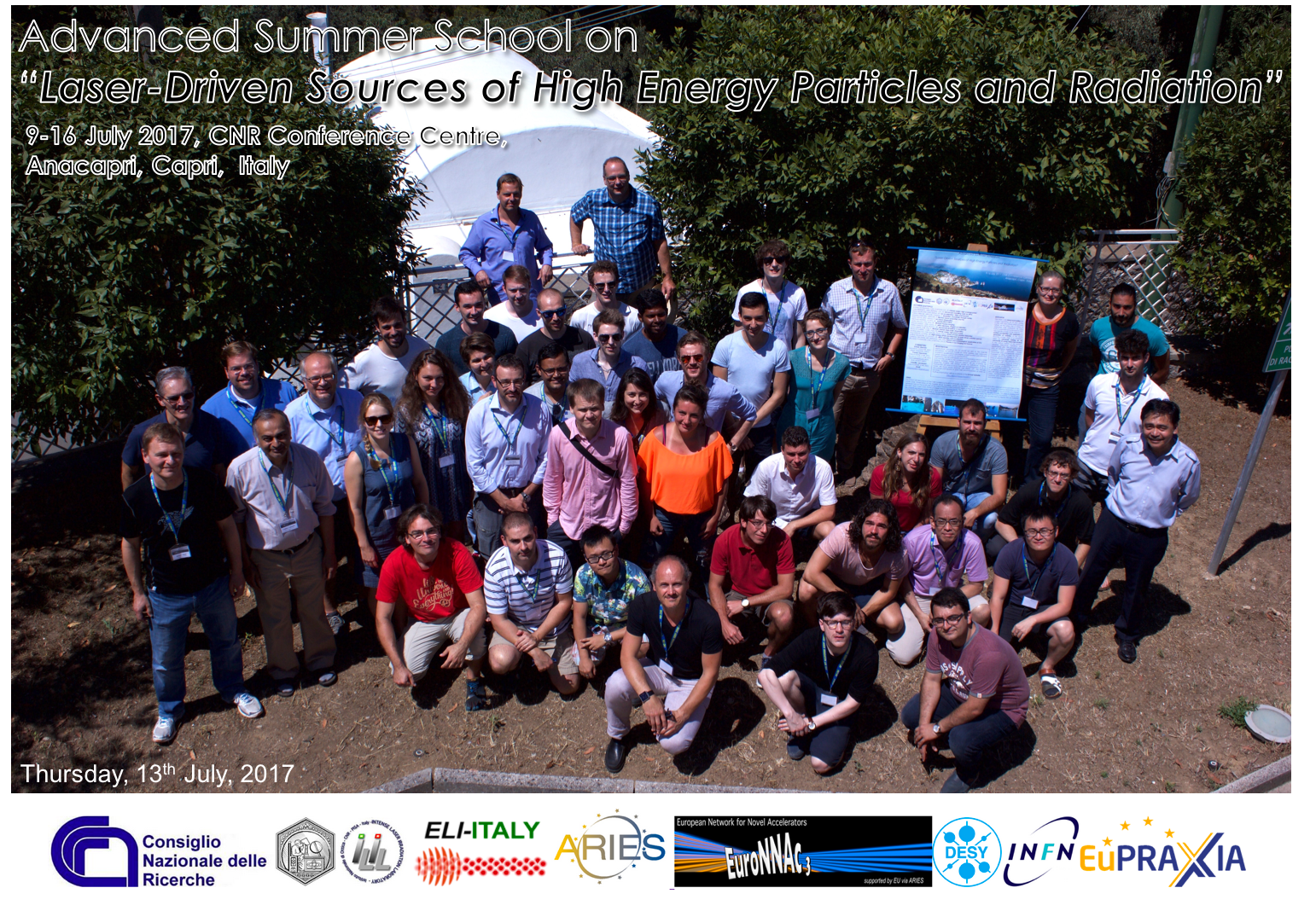 NEWS – News concerning the School will be posted here

• Lectures slides available here.

• "Best Poster" prize by Applied Sciences awarded to ANGEL FERRAN POUSA.

• "Technology breakthrough" prize by Vacuum Components & Systems awarded to KAI HUANG.

• 1st Group picture available here (a 2nd picture will be taken on Thursday, 10 am)

• How to reach the venue (main entrance) from the bus top of Piazza CAPRILE in Anacapri: see gmap link.

• Submitted posters: see list;

• Participation to Social events: please fill the form to give a preliminary (non-binding) feedback;

• Accompanying persons: see registration info below;

• Link for bus and cable car details in Capri;

• Link for ferries to reach Capri from nearby main destinations;

• Poster session: poster size should be A0/portrait;

• Join the event of facebook to exchange info ;

• Best poster prize award selection; deadline for abstract submission June 15th;

• Technology Breakthrough prize award selection; deadline for abstract submission June 15th;

• Programme layout with speakers now online;

• Poster session submission deadline (1-page abstract): June 15th, 2017. Download template in pdf, rtf, docx format;

• Registration deadline (no financial support): June 15th, 2017. Download registration form in pdf, rtf, docx format;

• Registration deadline (with request for partial financial support): April 20th, 2017 (Expired);

MOTIVATION – New large scale intense laser facilities with unique specifications will be soon coming on-line, capable of laser intensities never achieved before. At the same time, a number of dedicated laser installations are being built or upgraded across the world to enter new regimes of laser-matter interaction for particle acceleration and applications to generation of radiation. In this rapidly evolving context there is a compelling need of advanced training for the community of young researchers involved in the various aspects of this research, requiring theoretical, numerical and experimental skills.

The School aims at bringing together distinguished scientists and motivated young researchers, post-doc and Ph.D students engaged or willing to enter this field, to promote advanced training in the key areas of ultraintense lasers, interaction with matter at ultra-high field and laser-plasma acceleration, with a focus on emerging, new, ground-breaking initiatives based on novel particle acceleration techniques, like the EuPRAXIA project. Novel accelerator techniques will indeed be one of the highlights of the School, where the best expertise from the accelerator science will deliver fundamental notions and extraordinary achievements of modern light sources based on the latest acceleration technology, with a perspective view on novel accelerators.  Also, specialists in generation of advanced radiation will provide latest update on applications to major multidisciplinary fields, including medicine and biology, material science and space industry.

Poster – Download the poster of the school here

SCIENTIFIC PROGRAMME – The programme of the course will cover all aspects of plasma acceleration, including beam driven and laser driven electron acceleration and different flavours of laser-driven ion acceleration. • Leading experts will guide participants through a journey across the science and techonology of intense lasers, including advanced laser schemes for future high average power sources, fundamental aspects of laser-plasma interactions, electron beam dynamics and advanced configurations of radiation emission, from Thomson scattering to X-ray free electron laser. • Ultrafast measurements and ultimate diagnostic techniques for laser and plasma characterization will be a key part of the course, with step-by-step training on laser pulse amplification and compression, pulse duration and contrast measurement, phase control and frequency conversion, electron and ion detection. • Basic and advanced concepts of numerical modelling of laser-plasma interaction physics, radiation emission and particles and radiation transport will be presented in view of the development of full start-to-end simulation of radiation sources. • An overview will also be given of the main laser facilities featuring the most advanced high power and high energy laser sources.

POSTER SESSION – Participants are strongly encouraged to present their work with a poster and discuss it during poster sessions that will take place every day during lunch time.

A Best Poster price of 500 € will be awarded in collaboration with Applied Sciences Journal Editors. The best poster will be selected by a committee including School Directors and Invited Lecturers. Participants willing to be considered for the price selection should submit their poster abstract no later than June 15th, 2017.

A Technology Breakthrough price of 500 € will also be awarded in collaboration with VCS Vacuum Components and Systems. The price will be awarded to the author of the poster showing original, innovative technological solutions and ideas in the experimental approach to intense laser-plasma investigation. Participants willing to be considered for the price selectrion should submit their poster abstract no later than June 15th, 2017.

Submitted posters

Costa, G., Characterization of self-injected electron beams from LWFA experiments at SPARC_LAB

Ditter, E. J., Exploring Proton Acceleration through Radiation Pressure using Thin Foils: Optical Diagnostics

Ferran Pousa., A. External injection into a laser-driven plasma accelerator with sub-femtosecond timing jitter

Garland, R.J., Study of fast electron dependencies in the heating of a solid target

Gerstmayr, E., Experimental observation of strong radiation reaction effects in the interaction of a high-intensity laser with a wakefield-accelerated electron beam

Ghaith, A., Progress of PrFeB Based Hybrid Cryogenic Undulators at SOLEIL

Gruse, J.-N., Modelling of Plasma Mirrors for a Laser Plasma Wakefield Staging Experiment

Horný, V., Ultrashort betatron X-ray pulses

Huang, K., Clocking the electron beams from laser wakefield acceleration via electric-optic spatial encoding

Yi, L., Bright X-ray Source from a Laser-Driven Microplasma Waveguide

Martin, P., High energy proton acceleration from thin cryogenic hydrogen ribbons

McIlvenny, A., 'Light Sail' Acceleration from Ultrathin Foils

Mira, F., Impact of the dopant choice on the beam properties in the Wakefield Ionization Injection

Palla, D., Self-Injection in a Moderately Relativistic Regime

Paternò, G., Overview of the collimation and characterization system of the ELI-NP Gamma Source

Pisani, F., Ultrashort Surface Plasmon Generation by Rotating Wavefronts

Rozario, S., Laser wakefield acceleration in the presence of a clustered medium

Svystun, E.N., Preserving the quality of an electron beam externally injected into a laser-plasma-accelerator

Terzani, D., Numerical Investigation of the Wakefield Generation by a Resonant Train of Laser Pulses Using the PIC – Envelope Model

INVITED LECTURERS

Riccardo TOMMASINI, LLNL, Livermore, CA,US,   Plasma X-ray Imaging and Sources

Malte KALUZA, IOQ, Jena, DE,   Ultrafast Plasma Imaging

Andrea MACCHI, CNR and Dip. Fisica, Pisa, IT,   Basics of laser-plasma interaction

Andy BAYRAMIAN, LLNL, Livermore, CA, US,   Intense Lasers: high average power

Carlo BENEDETTI, LBNL, Berkeley, CA, US,   Advanced modelling tools for LWFA

Luca LABATE, CNR, Pisa, IT,   Ultrafast, intense laser pulse diagnostics

Marco BORGHESI, QUB, Belfast, UK,   Ion acceleration: TNSA and beyond

Dario GIOVE, INFN, Milano, IT,   Ion beam diagnostics

Zulfikar NAJMUDIN, IC, London, UK,   LWFA: injection and acceleration

Pablo CIRRONE, INFN-LNS, Catania, IT,  Simulation of particles through matter

Bernhard HIDDING, SCAPA, University of Strathclyde, UK, Fundamentals and Applications of Hybrid LWFA-PWFA

Masaki KANDO, QST, JAEA, Kyoto, JP, LWFA electrons: staged acceleration

Massimo FERRARIO, INFN-LNF, IT, Electron beam properties and FEL

Stefan KARSCH, MPQ, Munich, DE,  Advanced all-optical X-ray sources

Special Topics

Bernhard HIDDING, SCAPA, University of Strathclyde, UK, Plasma-based space radiation mimicking for space radiobiology and electronics testing

Ceferino OBCEMEA, Radiation Research Program, NCI, Bethesda, MD, USA, Clinical and radiobiological applications of plasma-accelerated particles

Paul MASON, Central Laser Faciolity, STFC – Rutherford Appleton Laboratory, Chilton, UK, Intense laser developments and applications: high-energy DPSSL development for laser-driven radiation sources

Programme layout – Each session will include two units of 45 min. each for a total of 34 units. A Special Topics session will take place on Friday afternoon and will include three invited talks of 30 min each. Lunch break will include poster presentation and discussion.

Sunday 9 July

Monday 10 July

Tuesday 11 July

Wednes 12 July

Thursday 13 July

Friday 14 July

Saturday15 July

Sunday 16 July

Welcome

Morning Session

9.00 -10.30

 

Excursion

Free time and poster reading

Departures

MACCHI – 1
MACCHI – 3
NAJMUDIN-2

KANDO-2

Coffee

Break

10:30 -11:00

Break

Break

Break

Break

Break

Morning Session

11:00-13:00

FERRARIO-3

FERRARIO-1-2
LEGARREC-1
BENEDETTI-3
TOMMASINI
GIOVE

Lunch and poster

13:00 -15:00

Lunch and Posters

Lunch and Posters

Lunch and Posters

Lunch and Posters

Best posters/Tech. Breakthrough awards cerimony and closing remarks

Afternoon Session


15:00-17:00

–


BENEDETTI-1
BENEDETTI-2
KANDO-1

Tea

Break

17:00 -17:30

Arrivals

Registration

&

Welcome

Reception

Break

Break

Break

Break

Afternoon Session

17:30 -19:00

MACCHI – 2
KARSCH-1
BORGHESI-3

* Special Topics

Venue: CNR conference center in Anacapri, Capri, Italy

VENUE – The School will take place at the CNR Conference Facility in Anacapri, on the island of Capri, in the south of Italy, off the cost of the beautiful peninsula of Sorrento. The conference facility is located at the premises of the former Solar Observatory of the Swedish Royal Academy, now owned by the Italian National Research Council. Capri is a famous destination in the Tyrrhenian Sea on the south side of the Gulf of Naples in the Campania region of Italy. Anacapri is located on the slopes of Mount Solaro at a higher elevation than Capri town. Points of interest include The Blue Grotto, the greatest attraction of the island, Villa San Michele, the Villas of Tiberius and the  Chairlift for Mount Solaro which takes to the highest peak of the island from which you can enjoy the most stunning panoramas. A regular bus running every fifteen minutes takes to the sparkling city of Capri and its famous Piazzetta.  Tickets can be purchased directly from the bus driver.

Transport – The nearest International Airport to Capri is Naples International Airport (http://www.aeroportodinapoli.it).
From Naples International Airport to train station/port
• From the airport the best and cheapest way to get to the train station/port is the AliBus, a bus departing every 20 minutes that takes passengers to either the train station and to the port in a less than 30 minutes.
• From the port to Capri
The island of Capri can be reached by regular ferry or hydrofoil connections from Naples and other locations like Sorrento, Amalfi and Salerno. Ferries depart from Molo Beverello, a few steps away from the bus stop.

Registration – Applications including full CV should be sent to the Scientific Secretariat (LPAschool2017@gmail.com). CV should include full name, address, age, nationality, academic qualifications and degree, present position and affiliation, current research activity, list of publications.

• Registration deadline: April 20th, 2017. Download registration form in pdf, rtf, docx format.

Registration fee for participants is 200€ and includes access to the conference facilities, lunches coffees and teas, training material, wifi. Partial financial support will be available for deserving students with limited access to institutional funding.

Registration fee for Accompanying persons is 200€ and includes access to the conference facilities, lunches, coffees and teas. For payment of registration fees please follow instructions included in the registration form (bank transfer to the CNR account – no credit card). Deadline for registration of accompanying persons is July 7th, 2017.

Social events – Guided excursions on the island will be organized to visit the main attractions including the Blue Grotto and the Villas of Tiberius.

Accommodation – Participants will have to book their own accommodation. A full list of hotels and additional information about Capri is available here. We strongly encourage participants to book their accommodation as early as possible.

The following list of hotels and B&B will have rooms available for the School until the March 10th. In most cases, price range is for single or double occupancy. Contact (email) information and web site is included. So please contact them directly mentioning "LPA – Capri2017", to secure your accommodation.